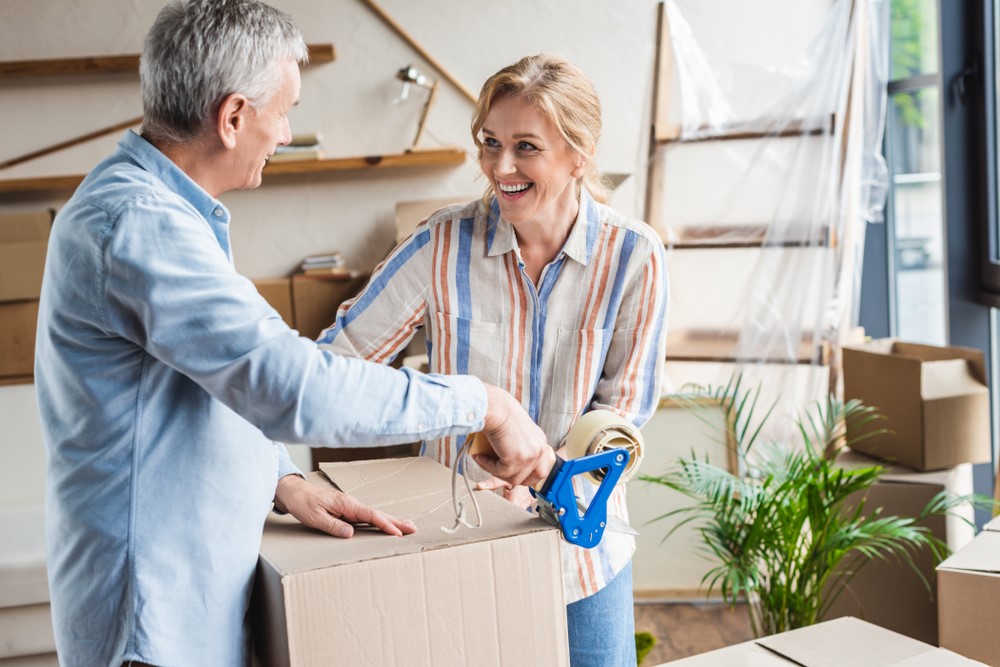 We understand how stressful moving can be, which is why we would always suggest that you should ask for help if you need it. This is a big phase in your life and you need this moment to be as stress-free and hassle-free as it possibly can be.
How far in advance do I need to book movers?
The answer will depend on when you are planning to move, where you are moving to and how you are moving. As a rule of thumb, removals companies would recommend booking a provisional date for their services as early as possible. Booking a removals company 4-6 weeks in advance is a highly accepted norm as this will give you time to get the whole moving process and legal work started. However your moving date will not be set until your solicitors have legally exchanged contracts so there is a chance it may change.
Friday's and end of month are always very busy for house moves so if these are when you are hoping to move it is a good idea to get a tentative date booked in.
How long does it take to pack up?
This will also depend on a lot of things because no two individuals or homeowners are ever alike. However, we can make an estimate of how long you can pack depending on the size of your home. For instance, if you live in a studio or one-bedroom apartment, it may take you about a day or two to pack everything. For individuals or families living in a two-bedroom home, it may take about two to three days to pack your belongings. For those who live in four-bedroom houses or bigger, it may take you four to six days (or longer) to pack your things.
These estimates are applicable to those who have previous moving experiences and the organisational skills required to pack belongings in a timely manner and those who have the entire day to allocate such task. If you haven't moved houses before or it has been a while since you last moved, you might want to double or triple the recommended time you spend on packing.
A lot of people prefer to pack their own stuff because it is the best way to ensure that everything is packed the way they want it. Aside from that, packing things on your own can help you save money on moving costs. However, if you do not have the time or energy to pack your belongings, or simply you do not  want to deal with the headache and stress of doing it yourself booking the services of a removals company is the most reasonable thing you can do.
Professional moving companies have staff that can properly pack and move your belongings in a safe, secure and timely manner. They can help you pack in a fraction of time as compared to doing it on your own. On top of that, they also have all the materials and equipment such as book boxes, bubble blanket, bubble wrap, file boxes, garment carriers, fragile tape, mattress bags, packing boxes, parcel tape, paper wrap and shrink wrap needed to make your items safe while on transit.
What will the movers not pack?
There are also certain items that the movers will not pack. These include dangerous materials such as aerosol cans, antifreeze, firearms, motor oil, petrol, kerosene, paint, paint thinners, fireworks, fire extinguishers, cleaning agents, fertilizers, pesticides and others. Perishable items such as refrigerated food, frozen food and fresh food can go bad easily so movers refuse to include them in their packing list. Temperatures inside a moving van can reach unsafe levels, which is why pets and plants are not allowed to be placed inside them. On top of that, valuable items with sentimental value or monetary value are left to be packed by the owners themselves. These items include personal documents, keys, credit cards, cash, medications, jewellery, expensive devices and more.
If you want to experience a stress-free, fully-insured and 100% reliable move, you need to get in touch with the removals experts. When it comes to the most cost-effective way to move home or business in Swindon, call on Robbins Removals!
All of our moving vehicles, drivers and goods in transit are fully insured. We also take extra care of all your belongings, giving you great service, safe transit and the peace of mind that you truly deserve! About 60% of our work are actually referrals from previous customers. Aside from that, we are also highly recommended on Big Yellow Storage.
Our staff is professional, friendly and 100% reliable. With Robbins Removals, you can be assured that your items are in good hands so if you are ready to book our service or if you want to enquire and get a quote, feel free to get in touch with us on info@robbinsremovals.com, 01793 511 712 (Office) or 07876 338 025 (Mobile) today!