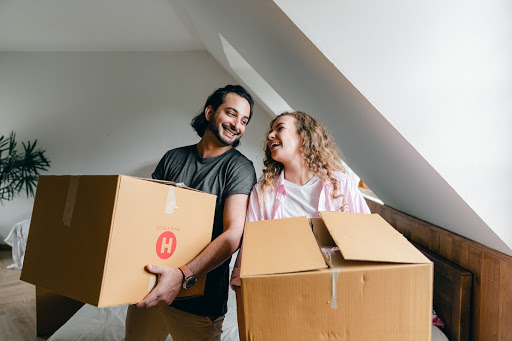 Knowing when it is time to move house closely resembles falling in love with someone: you feel it deep within your being and you are not sure how you can explain how you feel. One thing is for sure: most people like to have a new home because it is exciting. But along the way, you begin to pick up a few signs that would tell you it's time to find a new one. Whether you need to live in a new environment to start a new life, you are no longer feeling the vibe of your existing home or it is something that should have been done many years ago, we have compiled a list of signs that will help you decide what is the best and right thing to do.
Moving house may have been on your mind for a while or you may not have considered it at all! Either way, here are some points to consider about your own home.
Not enough space
An expanding family is the most obvious sign that it's time for a home upgrade. Your current house might not have enough room for new children, or maybe a family member is going to move in, and they will need their own space. Rather than add an extension, it may be better to find a property that suits all of your needs.
Ask yourself the following questions;
Is there a gradual appearance of storage boxes in the rooms of your home?

Do you have to wait in line whenever you need to use the bathroom?

Are your kids fighting over the space they have in their room?

Are the members of your family (including your pets) expanding and the current space in your home is not enough anymore?
Deciding to move to a new house or improving your existing property can be a difficult decision to make. In some cases, becoming restless at home can be a deciding factor, with many people choosing to upgrade to a bigger and better home. While others may position themselves on the property market by investing in a starter home then upgrading to a larger house that can accommodate a family. 
Too much space
This is the opposite problem! Maybe your children have moved out and the house is empty without them. Many rooms are left unused, the garden is too big and is getting unruly, so a downsize may be in order!
Are you starting to hear the echo of your lonely voice? 

Have your children left the family home? 

Do you have more extra space that you are not utilising? 

Are the unoccupied rooms in your home bringing too many sad memories?

Are you paying extra for the living spaces that you are not using anymore?

Is your home demanding too much maintenance time and your free time is not enough to address it?
If your answer to these questions is a resounding yes, it probably means you are ready to downsize your home. Doing this can give you the spare time that you need, allocate less maintenance time and prevent the accumulation of unutilised living spaces. 
The cost of maintaining a house
A lot of people are experiencing a change in their income or faced with the reality that they have to save money. These reasons can encourage people to move to a home with lesser maintenance costs. 
Change of location
Maybe you're not a fan of the location you currently live, or maybe you've always dreamed of moving to the city or the countryside. If you are thinking of having children, you might also consider moving somewhere that is close to a school, and if your commute to work is long and tedious, then finding a house closer to where you work may be an incentive to move, too!
Catchment areas for education
A lot of people now choose to live within the catchment area for the school they are hoping their children will attend. The catchment area varies from school to school however the closer you are to the school the more likely you are to be accepted.
Wanting to modernise
If you live in an older house then you might dream of living somewhere more modern so you can reap the benefits of a modernised kitchen and living room. Of course, you can always modernise your current kitchen, but if the whole house is in need of freshening up then it may be more worthwhile and cost effective to move.
Changes within the neighbourhood
If your neighbourhood is deteriorating due to physical, social or economic reasons, this is probably a signal for you to find another suitable place to raise your family or live within peaceful surroundings. If you highly value the safety, peace of mind and happiness of you and your family, you should take this factor into consideration. Although moving can be stressful, deciding to make a big change that will improve your living conditions will prove a positive decision for you in the long run. 
Relationships
A lot of people choose to relocate whenever they are moving up in the relationship stage, which often would encourage either one of the partners to sell their existing property if both are homeowners. Breakups, on the other hand, can urge people to move to a new home because their income may not be enough to support their existing home or a partner might need to buy the other partner out. 
You are not happy with your home anymore
Are you spending way too much time in other places except your home? Are you frequently complaining about the weather in your neighbourhood? Are you tired of clearing up snow that is knee-deep? Are you tired with the heat that seems to never end? Are you spending too much time commuting to work? Finding a home near your work or in an area with an agreeable climate is the sensible decision you can make.
If you have simply fallen out of love with your home and you want a fresh start, talk to the moving experts of Robbins Removals on 07876 338 025 or 01793 511 712 today! They can offer complete house removals service, no matter the size of your home!