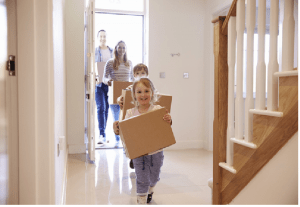 If you are considering moving houses, it is important to know roughly how much it is going to cost you and how much of that cost you should allocate for the things you are expected to pay for. As of this year, the average house move cost is more or less £10,000 and this may come as a surprise if you have never experienced moving house before. 
So you won't be left dumbfounded by any unexpected fees, this blog will cover the major things you need to pay such as surveyor's fee, stamp duty, conveyancing, legal fees and allocation for removals.
As for the average house prices here in the UK, it is still going on an upward trend 
The prices of houses in the UK have continued on an upward progression since 2013. The Chancellor put in place Stamp Duty Land Tax holiday in July of last year in an effort to keep the housing market afloat amidst the coronavirus pandemic. Numerous homeowners and investors are taking advantage of this opportunity before it comes to an end on the 30th June 2021. It has made a good impact on the housing market. The stamp duty threshold will drop from £500,000 to £250,000 from July to September. And then return to its normal threshold of £125,000 from October 2021. 
Her Majesty's Land Registry has collected statistics regarding the UK House Price Index. As of November 2020, the average price of a UK property is £249,633, the annual price change for a UK property is 7.6% while the monthly price change for a UK property is 1.2%. 
Legal fees. If you plan to sell or purchase your home, you will be required to carry out legal work with the help of a Solicitor or Licensed Conveyancer. The legal fees you are expected to pay ranges from £800 to £2,000 not including 20% VAT which depends on the cost of your preferred property.
If you are acquiring a mortgage, you will be expected to initiate a Local Search which will cost you from £200 to £300, depending on the rates implemented by the Local Council. The Local Search will double-check if there are any local plans or issues that may affect your purchase of the property.
When registering your ownership over the new property, you will be charged by the Land Registry with a fee that is dependent on the purchase price of your home. For instance, if your property is purchased between the £200,000 to £500,000 range, expect to pay a registration fee of £135.
And don't forget the Stamp Duty fee. This is the highest cost you will be expected to pay when purchasing your property. You can use the government's calculator to find out how much you are going to have to pay. Even with the Stamp Duty holiday coming to an end First Time Buyers can still take advantage of the first time buyer stamp duty relief, which means they will not pay Stamp Duty on any purchase under £300,000.
Home Buyers Survey. If you want to acquire a mortgage to purchase your property, the mortgage company will engage in a mortgage survey to make sure that the property is in good condition for the loan. 
If you wish to carry out a full property survey, you will need to do so on your own. The price will depend on the value and size of your property. The Home Buyers Survey is a visual inspection that is fulfilled by a surveyor and this is carried out by inspecting visible areas in your property and writing a report regarding its overall condition and declare defects if there are any. This inspection does not involve moving furniture or lifting floorboards and carpets. If you wish to carry out a more comprehensive visual inspection, you can schedule a Building Survey.
The Home Buyers Survey can only be conducted by chartered surveyors from The Royal Institution of Chartered Surveyors. It is recommended for modern and typical homes in reasonable conditions as it only visually examines the property. For dilapidated or outdated properties, the Building Survey is recommended because it will carry out a more detailed visual inspection.
Hidden Fees. Aside from estate agent fees, new insurance policies, solicitors and mortgage company fees, you need to allocate a cost for other fees too. For instance, if you are looking to move into rented accommodation temporarily you may need to put your belongings into storage. The cost of storage will depend on the size of the storage facility you will avail of. Other fees you need to prepare for are temporary housing for your pets, fees for post redirection and cleaning fees. 
Removals. If you need a removals company to help you move from one house to another, the cost of booking this service will depend on a lot of things. For instance, the distance between the 2 properties will greatly impact the final price, as well as the number of items that you need to move, the date when your move is scheduled and the exclusion or inclusion of full insurance to the service. Most of the time, hiring a removals team on weekends or at the end of the month will cost more than usual. 
The average cost of UK removals cannot be fully determined because it depends on the kind of services you are looking to book, whether it is a partial or full service. For instance, are your items already packed and you just need the removals team to transfer them from your old location to the new one or are you planning to hire the removals team to pack all your items and reassemble them to your new home?
If you want to get an idea of how much it will cost you to move, feel free to enquire or tell Robbins Removals your requirements at 07876 338 025, 01793 511 712 or info@robbinsremovals.com today. We have a great range of removals, packing and storage services that can cater to your needs!