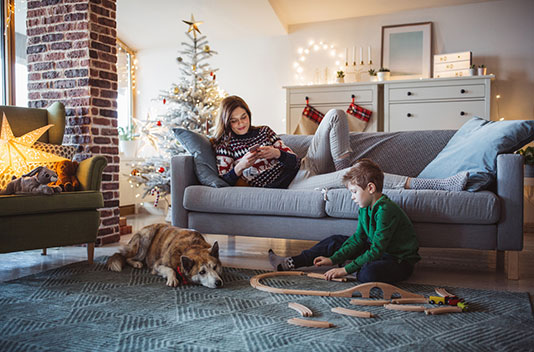 Here's the scenario, you've found your new dream home, and while you're patiently waiting for all the surveys and conveyancing work to be completed, you've been spending hours upon hours daydreaming about how wonderful it will be to wake up on Christmas morning in your new abode. You've probably even made a mental note about which corner of which room your Christmas tree is going to look the best in.
But with the weeks ticking by until the festive season arrives, it's time to work towards making that dream become a reality. Fortunately, with a bit of planning and organisation, you can get yourself a few steps closer to ensuring you're all settled into your new home by 25 December.
Make a Christmas wish
Make sure everyone, from your solicitor to your estate agent, knows that you want to be in your new address by the time Santa visits. Chances are everyone in your chain will also be pushing for a pre-Christmas moving date too, so they'll be working hard to make it happen.
Get your packing wrapped up early
As the festive season approaches, your social diary tends to fill up fast. You won't want to miss out on a party or nativity because you need more time to pack. By boxing up non-essential items now, and even dismantling a few bits of furniture, you'll save yourself some precious time as your moving day draws closer.
Make the most of the Christmas post
You can save yourself some time, as well as the cost of a few stamps, by popping your change of address notices inside the festive greetings cards that you mail out to friends and family.
If you want to be settled in your new home before Christmas, then contact the team at Robbins Removals. We can help make your wish come true!